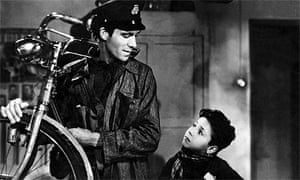 For our final film of 2016 I'm really pleased to be showing what has regularly polled as one of the greatest films of all time – Vittorio de Sica's 1948 classic Ladri di Bicilette, or Bicycle Thieves.  The film was a key part of the Italian neorealism movement and things didn't get much more real than this study of poverty in postwar Rome.  Indeed all of the film was shot on location, no studio sets were used and the cast were untrained non actors (Lamberto Maggiorani was a factory worker).  De Sica wanted to portray the poverty and unemployment of post war Italy and was unable to attract any financial backing from any major studio so eventually funded the film himself with the help of friends.
Antonio (Lamberto Maggiorani) is a poor man who is thrilled when he is at last offered a job: delivering and putting up movie posters. But he needs a bicycle, and must supply his own, so his wife Maria (Lianella Carelli) pawns the family's entire stock of bed linen to redeem the bicycle he had already hocked. On his first day his bike is stolen and Antonio drops everything to go on a desperate odyssey through the streets of Rome with his little boy Bruno (Enzo Staiola) to get it back, pleading and accusing and uncovering scenes of poverty similar to theirs wherever they go. Faces always gather around the pair, commenting, complaining and magnifying the couples' distress.
Antonio seems unable or unwilling to embrace the obvious redemptive moral – that his son is the important possession, not the bicycle but perhaps because this moral is a luxury that only rich people can afford. The father remains obsessed with finding a stolen needle in the urban haystack, obsessed with getting his job back.  The result is a brutal authentic portrayal of poverty and a brilliant work of art.  Despite this being filmed in 1948 in post war Italy there are worrying and unsettling parallels to the desperate situation that many find themselves in today, both in Italy and closer to home.
I hope you will join us for a slice of cinema history.
Date: Monday 14 November at 7pm
Venue: The Reliance, 76-78 North Street, Leeds, LS2 7PN
Cost: £6 in advance (tickets can be bought via the Eventbrite link opposite)